The Global Methodist Church in the Public Square: Restraint and Modesty
By Walter B. Fenton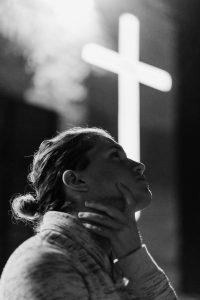 One of the running jokes among students at the divinity school I attended went like this: "We are all at the divinity school because we did not get accepted at the law school." Like all such witticisms, it was funny because most of us knew it was at least half true. We knew attending the law school could lead to a career in politics, and a good number of us yearned for that calling.
Truth be told, inside many a clergyperson beats the heart of a budding politician. So, it is not surprising many are happy to openly share their political opinions on a host of matters, and some even do so from their pulpits on Sunday mornings. When done sparingly, and with dignity and respect, we do appreciate pastors who speak in the midst of a crisis or address issues of great import. We are particularly grateful for those who ground such messages in Scripture and in the confessions of faith shared by Christians down through the ages.
All Christ followers, whether clergy or laity, are obliged to address matters in the public square. And we are to bring to those matters the moral and ethical convictions derived from Scripture and the wisdom, common sense, and discernment of the faithful ones who have gone before us. This is a necessary, sacred, and daunting task, particularly in diverse communities and countries where civil harmony requires us to respect the rights of others to express and contend for their own convictions.
At this early stage of its formation, the Global Methodist Church's 17-member Transitional Leadership Council (TLC) and its very small staff will address political and social policy issues with restraint and modesty. The council members and staff readily acknowledge their tasks are transitional in nature, guiding the new Church to a convening General Conference where duly elected representatives will begin to give more definitive shape to the denomination.
Consequently, the council has acted with restraint when setting forth guidelines for the Global Methodist Church's social witness in the world. In paragraph 202 of the Transitional Book of Doctrines and Discipline, the TLC has adopted 14 statements rooted in Scripture and the teachings of the church universal, to inform and guide GM Church members as they engage issues in the public square (see below).
While council members bring a wealth of experience and knowledge to their work, they and the Global Methodist Church's staff are committed to modesty when asked to speak directly on the Church's behalf regarding specific political and social issues. They strongly encourage current GM Church members and those interested in joining the new Church to carefully read and prayerfully reflect on the statements at the end of the article accessed by clicking read more. The council members and the staff will adhere to these statements. During this transitional period, the GM Church will rarely make pronouncements on social and political policy matters in the countries where its members live and serve as Christ's ambassadors and if it does so, such statements will have been fully vetted and approved by the TLC.
The Global Methodist Church is deeply committed to sharing the peace of Christ with others and advocating for God's justice for all people. At the same time, it expects its deacons, elders, and bishops to act with restraint and modesty when it comes to addressing social and political policy matters. And when necessary, it trusts the laity will remind GM Church clergy and leaders that they are the Church's pastors, not its politicians.
______________________________
OUR WITNESS TO THE WORLD
We believe that all persons irrespective of their station or circumstances in life have been made in the image of God and must be treated with dignity, justice, and respect. We denounce as sin racism, sexism, and other expressions that unjustly discriminate against any person (Genesis 1-2, Deuteronomy 16:19-20, Luke 11:42, 19:9, Colossians 3:11).
We believe that life is a holy gift of God whose beginnings and endings are set by God, and that it is the particular duty of believers to protect those who may be powerless to protect themselves, including the unborn, those with disabilities or serious illness, and the aged (Genesis 2:7, Leviticus 19:32, Jeremiah 1:5, Luke 1:41-44).
The sacredness of all life compels us to resist the practice of abortion except in the cases of tragic conflicts of life against life when the wellbeing of the mother and the child are at stake. We do not accept abortion as a means of birth control or gender selection, and we call upon all Christians as disciples of the Lord of Life to prayerfully consider how we can support those women facing unintended pregnancies without adequate care, counsel, or resources (Exodus 22:23-23, Psalm 139:13-16, James 1:27).
We believe that all should have the right to work in safe conditions with fair compensation and free of grinding toil or exploitation by others. We respect the right of workers to engage in collective bargaining to protect their welfare. We pray that all should be allowed to freely follow their vocations, especially those who work on the frontiers of truth and knowledge and those who may enrich the lives of others with beauty and joy. We acknowledge that science and technology are gifts of God intended to improve human life and we encourage dialogue between faith and science as mutual witnesses to God's creative power (Deuteronomy 5:12-14, Luke 10:7, 1 Corinthians 10:31, 1 Timothy 5:18).
We believe that God has called us to share His concern for the poor and to alleviate the conditions and policies which have produced vast disparities in wealth and resources, both among individuals and nations, giving rise to poverty. We are called to improve the quality of life and opportunities for all God's people as we share the good news to the poor and freedom for the oppressed (Leviticus 19:9-10, Matthew 25:37-40, Luke 6:20-25, James 2:1-5).
We believe that all have been summoned to care for the earth as our common home, stewarding its resources, sharing in its bounty, and exercising responsible and sustainable consumption so that there is enough for all (Genesis 2:15, Leviticus 26:34-35, Psalm 24:1).
We believe that human sexuality is a gift of God that is to be affirmed as it is exercised within the legal and spiritual covenant of a loving and monogamous marriage between one man and one woman (Exodus 20:14, Matthew 19:3-9, Ephesians 5:22-33).
We are saddened by all expressions of sexual behavior, including pornography, polygamy, and promiscuity, that do not recognize the sacred worth of each individual or that seek to exploit, abuse, objectify, or degrade others, or that represent less than God's intentional design for His children. While affirming a scriptural view of sexuality and gender, we welcome all to experience the redemptive grace of Jesus and are committed to being a safe place of refuge, hospitality, and healing for any who may have experienced brokenness in their sexual lives (Genesis 1:27, Genesis 2:24, 1 Corinthians 6:9-20).
We believe that children, whether through birth or adoption, are a sacred gift to us from God, and we accept our responsibility to both protect and nurture the youngest among us, particularly against such abuses as enforced child labor, involuntary conscription, human trafficking, and other such practices in the world (Deuteronomy 4:9-10, Psalm 127:3-5, 1 Timothy 5:4,8,16).
We believe that followers of God have been called to exercise self-control and holiness in their personal lives, generosity and kindness in their relations with others, and grace in all matters of life (Romans 12:9-21, Galatians 5:22-23).
We believe in the rule of justice and law in society, in the right of individuals to follow God's call and to lawfully immigrate to new places, and in the pursuit of peace both between nations and individuals. We offer ourselves to work in order to reduce the bitterness that has overflowed in God's world (Genesis 12:1, Isaiah 11:1-9, 2 Corinthians 13:11, Ephesians 2:19-10).
We believe the practice of the Golden Rule, treating others as we would wish to be treated, can effectively guide our social and business relationships. We seek to cultivate the mind of Christ and a heart for others (Matthew 7:12, Romans 12:1-2).
We believe that each person should have the right to exercise their religious beliefs without fear of persecution and that governments should respect freedom of religion and the important role of faith communities within the greater society. We further denounce discrimination or persecution which may target any because of their gender, economic status, ethnic or tribal identity, age, or political views (Isaiah 1:17, Matthew 5:44, Romans 8:35).
We believe in the final triumph of righteousness when the kingdoms of this world shall become the kingdom of Christ, and we accept our calling to work towards that end as Christ's light and the salt of the earth (Matthew 5:13-16, Revelation 11:15-17, Revelation 21-22).
You can learn more about the Global Methodist Church by exploring its website.
The Rev. Walter Fenton is Global Methodist Church's Deputy Connectional Officer.